Maintenance issue forces police helicopter to land near Long Beach shoreline
A Long Beach police helicopter made an unplanned landing in a grassy area along Shoreline Drive because the aircraft was having a maintenance issue Sunday night, according to the department.
The helicopter set down around 11:10 p.m., witnesses said. It was landed as a precaution, police spokeswoman Arantxa Chavarria said, and was grounded for no more than about 90 minutes.
Maintenance issues are not uncommon and the helicopter was safely flown back to the department's heliport, Chavarria said.
This was before a thunderstorm hit Long Beach, with lightning, sheets of rain and howling wind. Chavarria said the helicopter being grounded was not related to the storm.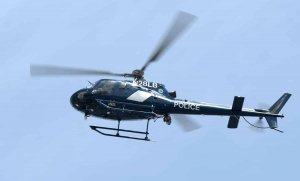 https://www.lbfdcalendar.org/wp-content/uploads/2020/10/logo.png
512
425
Henry Haley
https://www.lbfdcalendar.org/wp-content/uploads/2020/10/logo.png
Henry Haley
2020-12-27 15:55:40
2020-12-28 15:56:20
Maintenance issue forces police helicopter to land near Long Beach shoreline